Despite it being "Thursday Thursday", I had no intention going out. I went about my day as usual.
For my noon session, I did an Xtend Barre Stick workout with Chantal. The workout was great! I pushed through and tried to do as many of the "advanced" portion as possible whether if it was standing on relevés when asked to or just getting some extra cardio steps in there.
For lunch, I ate one of my meal prepped meals that I cooked a few days ago. Chicken breast was on sale at Market basket and I found some asparagus and zucchini in the "reduced" section. 3 huge breasts, 2 bunches of asparagus and 5 zucchinis only cost about $8.00. I made about 5 meals with it.
Chicken breast asparagus meal prep lunch
While I was warming up my lunch, I spotted cookies on the front desk. We always have so many treats and food at the office and I'm always tempted to graze or GORGE all day.
After work, I hit up the OTF 5:45 session with Meg. Last summer, I used to go after work almost every weekday. Since I've made the switch to noon sessions, it's almost daunting to get myself there after work. There's a 45 minute lag and I'm exhausted by then.
On the flip side, I get to go early and have time to stretch my calves and foam roll my body before class. Today was an "ESP" (Endurance, Strength, Power) day. It had a little bit of everything from explosive movements, hills on the tread and a decent amount of rowing. It was also a modified Run/Row workout. I say modified because instead of going back and forth to the rower, we also had a super set of tricep extensions and single arm swings in between.
I started off well on the treadmill then lost steam during the 3rd round. Needless to say, I did not make it to the bonus round but I'm not sure a lot of people did either. I ended up on the last row before hitting the bonus. The older woman next to me was killing it!
The first two blocks of the floor was great. As my friend Sam would say, I do "Pop jacks" so quick because I'm already so short and close to the ground! Haha. Meg corrected my form on the TRX Y's because I kept using momentum to get up instead of going slow and using my chest and core. Once I got the hang of it, it became MUCH harder.
The 4 minute core blast for the finale was my least favorite. A few of the workouts incorporated using stability on the bosu ball but I already have enough difficulty without it that I did the modified version without for the first two workouts which was bicyles/touching toes.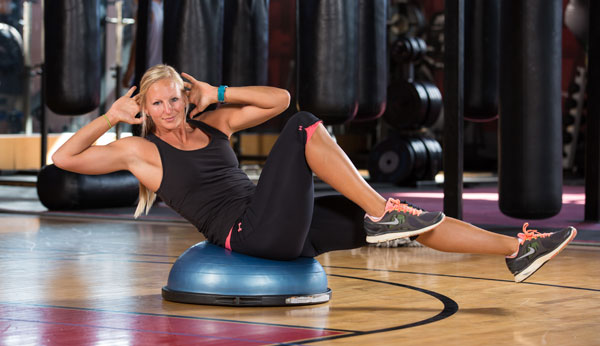 Image via Acefitness
Overall, I felt good about the workout. My calories and splat points was on point and I scored some extra Allout OTF bingo squares.
I was on the fence about going out to meet my friends for drinks since I was having such a great week eating and working out wise. I decided to surprise them anyways. I didn't drink any alcohol but just stuck with soda water with lemon. I skipped the Parmesan fries although they looked and smelled tantalizing. For dinner, I ordered grill chicken wings and crab dip. The crab dip was probably high in calories and wasn't worth it. Overall, it was a great night. I had such a great time with the girls that I didn't even miss the booze or the fries! I did miss the warm chocolate chip skillet though!
5th Day
Feeling relaxed